Every month we put a U2 fan in the spotlight. The fan of the month for January 2017 is user Soundwall. Read along for the interview we had with this U2 fan.

"I was able to give Edge a personal letter. He was so cool about it. He had a poker face, did not say a thing. He opened his jacket an stuck the letter inside his pocket."

Tell us something about yourself, who are you and what do you do for a living?
My name is Caroline. I am Dutch, and live in the south east of Holland. I am 44 years young and in between jobs as they say. But I don't sit still. I work as a volunteer at an elementary school. The kids are great. I am also in ward council. Just love animals. I've got two sister bunny's.

How did you become a fan of U2, tell us how it happened?
When I was 17 and in high school I had a best friend. She listened a lot to U2. That was in the Rattle & Hum period. I liked it and we went to the movie together. We were the only ones there, so we decided to dance right there in the cinema. The Lovetown tour came up, and we saw the band in Rotterdam. And I knew that night I was a fan forever!
Wow, they just blew me away. It was very good. At school they were not that thrilled, because I had skipped school for a day. But hey, it was totally legal in my own eyes, ha ha !
Teachers never made a big deal out of it, but they made a joke about it at my graduation.
My friend decided later to go and live in the UK, and works there still.

Did you ever have a special U2 experience like a live concert? Can you tell us something about it?
Oh yes, I have seen the band 25 times by now. Each night is just so different. Besides Holland I also saw the band in Germany and Belgium.
With the Elevation concerts in Arnhem, Holland, I made this sign. It said "Wanna dance?". Me and my new found friend landed a great spot at the catwalk rail. When Bono walked over I held this sign up. He stood still, reading it for a brief moment. That was just so cool. He made a joke, although I never could hear what he said. He was cheeky, I remember that.
In Belgium 2005 I was able to grab Bono by his ankle for a brief moment, when he stepped off stage on a small platform at the rail. I doubt that he will ever do that again.
In 2015 we were in Amsterdam at the Amstel hotel. I was able to give Edge a personal letter. He was so cool about it. He had a poker face, did not say a thing. He opened his jacket an stuck the letter inside his pocket.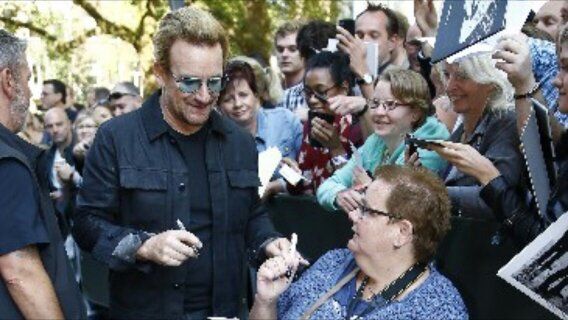 Me and my friend at the Amstel Hotel. I have the mint green sweater and my best friend wears a red scarf.

Edge right after i gave him my personal letter. Such a nice guy!

Bono and Edge both signed our tickets.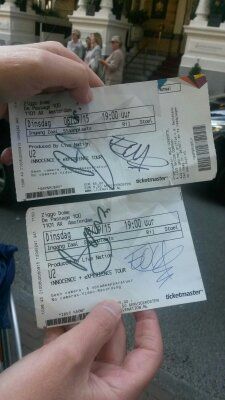 What are your expectations for U2 in 2017? Do you see them topping the charts again?
That's hard to say, the band will have a hit. I don't know if it's a small one or a big hit. I am more curious about their next album.
There will be a very good new album, that will have the coolest Edge riffs ever! I expect them to announce some tour dates. But it may take a while before they play Europe.

What do you think of all this U2 bashing, directed specially to Bono? What would you say to all the haters?
Bono is doing something to help others, besides his busy lifestyle as a rock star. He does not owe us fans. He is in a position where he is able to help. I wish i was in that position.
It's easy to hate him, harder to love him.

Does anyone in your family or one of your friends like U2? If so, did they introduce you to U2, or did you "convert" them?
No fans in my family. In 2000 i posted on the old Dutch fanclub forum, looking for a concert buddy. I got some reactions. One stood out, and we started to mail each other. For a year we mailed and phoned. Some very long talks. We talked about music and U2 and life in general. I met her on the day we went to see U2 in Arnhem. We did not even sit down there in GA row, and a security guy placed some fences around a group of us 300 fans. He said we were going in first. That happened.
It was so unexpected, but I loved it. We are still best friends!!


What does your U2 collection look like? What kind of stuff do you have and how is it organised?
I have all albums, also have lots of bootlegs and singles.
Here's a backstage pass I have: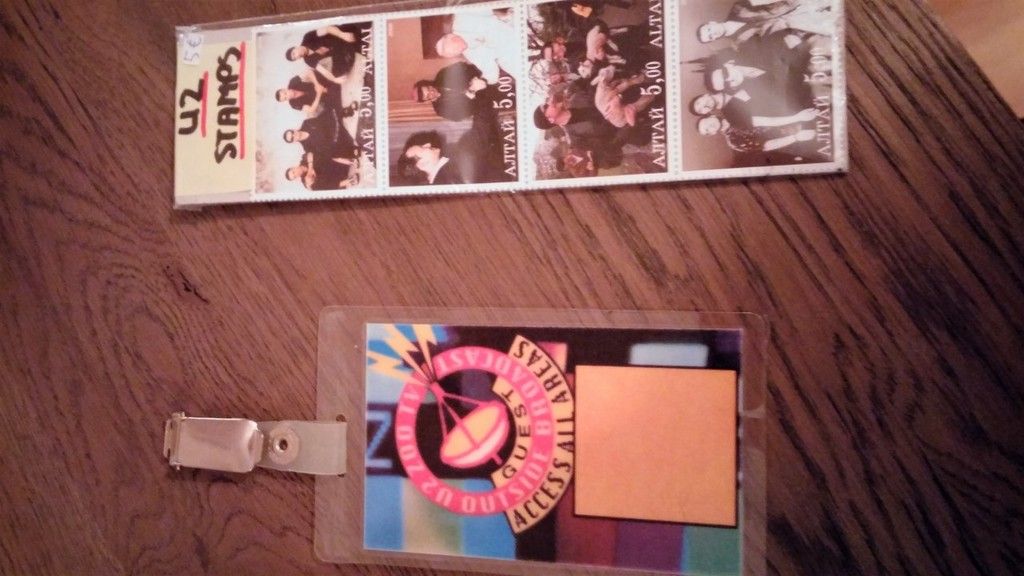 Which U2 song do you feel the most "attached" to, or means the most for you?
Bad. Live it's spine chilling, and so emotional.
I know I never used drugs. I have a limitation, and i am thankful for every normal day. So this is just heartbreaking to see and hear about.

How different is U2 compared to other artists that you like?
They introduced Irish folk to me, blues and so many more like Elvis and John Lennon. They are the best friends, and that shows when you see them play. I have never seen artists like that.

What are your hobbies and interests away from U2, musical or otherwise?
Reading, I am reading Stephen King at the moment. Some spoof knitting, that is so relaxing to do. Game of Thrones! Outlander series. I also like cooking, and taking photographs.

Thanks for this interview Soundwall!

Note: Our crew members choose the fan of the month, you can't sign up for it.