Every month we put a U2 fan in the spotlight. The fan of the month for June 2017 is user DutchU2Fan. Read along for the interview we had with this U2 fan.

"The next day was the last concert in Amsterdam. What a show it was. The band was on fire: tour debut of Magnificent, Bad AND 40. Best night of my life!"

Tell us something about yourself, who are you and what do you do for a living?
My name is Tim. I am 19 and I am from The Netherlands. I study video editing, I am in my 2nd year now (out of 3 years) and besides that I also worked in a supermarket, but I quit my job there so I am looking for a new one now. I have a brother who is 15 and I still live with my parents.

How did you become a fan of U2? Tell us how it happened.
So I was 2 years old, I was about to go to my grandpa with my father and mother. But for some reason I really didn't want to go, I cried and screamed. After a few minutes my dad turned on the DVD player and inserted Rattle and Hum. From the moment the band started to play I was silent, and since that day I am a HUGE U2 fan.





Tell us more about your experiences at U2 shows along the years, how did you live each tour?
For my 7th birthday I got tickets to see U2 in Amsterdam on July 16th, 2005. I was so happy to finally see my favorite band live! I can't remember much of the show, the only 2 things I can really remember was that my ear protection fell out during Streets and I thought Zoo Station with Bono huge on the screen was really cool. The next show I visited was July 20th 2009 in Amsterdam, the 360 tour! Amazing show, I can't really remember much of the show, only that I was so happy to see my favorite band again live. The next morning (July 21st), my dad gave me tickets and said "We have to use this later today." I thought it was the tickets from the show the day before, so I could put them in my collection, but then I realized it was the tickets for the 2nd show in Amsterdam! I was really happy, that show was really amazing! 3 tour debuts, Elevation, UTEOTW and Bad. Amazing show. After the 360 tour things got a little silent with U2, but suddenly in 2014 they released SOI and announced the tour. First there were only 2 shows announced for Amsterdam, so my dad and I bought tickets for the last night, because last nights are the best nights
. But they announced two more shows for Amsterdam and again we bought tickets for the last night. For those nights I had GA tickets for the first time (with U2)! The 2nd show in Amsterdam (Sep 9 2015) was a good show, I was standing close to the E-Stage, I liked it. At the time I had a broken wrist so I couldn't clap for U2. Before the 3rd show my dad and I went to the hotel where U2 was staying and we got autographs from Edge and Bono. The next day was the last concert in Amsterdam. What a show it was. The band was on fire: tour debut of Magnificent, Bad AND 40. Best night of my life! A few days after that concert my dad gave me a ticket for the Cologne show as a surprise! So the 2 of us went to Cologne to see them again, that show was also really good! This time we were sitting. This was the longest U2 show, 28 songs! With Bad again and 40 but also Party Girl! Then came the announcement for the JT 2017 tour, I was so happy, I was shaking. Me and my dad bought tickets for both Amsterdam shows. But for my birthday I also got a ticket for the Dublin show! So I can't wait!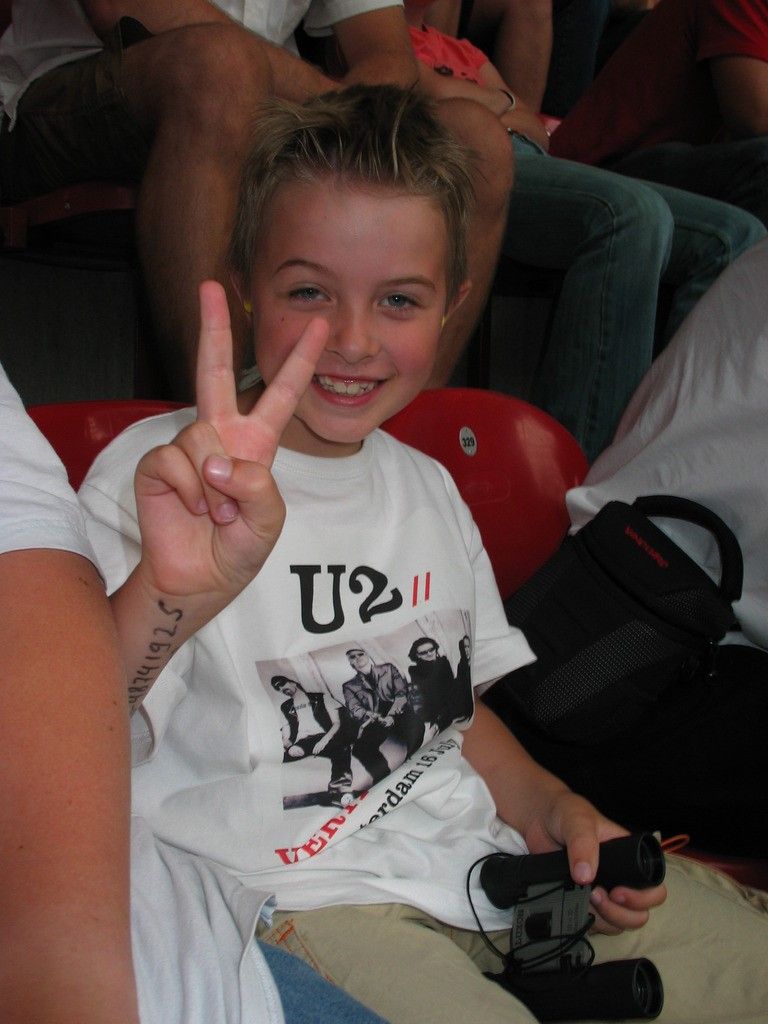 Looking back at the first JT 2017 shows, what are the things you like the most about this tour? What changes could be done to improve the experience?
I really like them for doing this tour to celebrate this amazing album. The setlist is alright, could be longer. But what they should do is make the setlist a "journey" through their career. Start with a Boy song and end with a SOE/SOI song. That would make it better, with at least 1 song from each album. But I am looking forward to seeing the show!

Now that the band is celebrating the Joshua Tree album, what does this album represent to you? What are your favorite tracks?
It is not my favorite album but it is their best album. It doesn't have a really special meaning to me. I am looking forward to hearing side B live, because most of those haven't been played in a long time. My favorite tracks in the album are: Exit, Trip Through Your Wires, In Gods Country and Bullet.

You have created multicams for U2 shows in the past. How did that start and how do you approach each project?
When I was 9 I got a webcam with an editing software for my birthday, I played with it and got hooked. Since then I have been making videos, I am even studying video editing now. After I attended the Amsterdam shows in 2009, I began making a multicam of the first night. I never finished it
. From then till now I have started many multicam projects, Turin 2010, Denver 2011, Anaheim 2011, Mexico 2011, Brussels 2010, but I never finished those projects which is a shame... Unfortunately I lost all these projects
So when U2 played in Amsterdam in 2015 I thought to myself: "This time I am going to complete a project." I did it for the last night film, but unfortunately not for the 2nd night film because I didn't have the time, sorry again for that. For the upcoming JT Tour I would really like to make a multicam again! But this time I am only planning to make one for 1 night
. For those first projects I would just rip videos from YouTube and use them, but for the Amsterdam 2015 multicam I asked people for the original files which are much better quality, so I am going to do that again for the JT multicam.

What is your favorite U2 videoclip, and why?
I have to go with Elevation, because it brings back memories from when I was young and I saw that clip on the TV. And it's also the coolest clip there is, Bono vs Bono (The Fly?!).

Which member of the band would you most like to share a pint with? What would you ask him?
Bono is my favorite member so I would share a Guinness with him. I would ask him why they think POP and NLOTH are such a failure. And I would ask him to sign my arm for a tattoo
.

How different is U2 compared to other artists that you like?
The other artists I like are: Muse, Green Day, Twenty One Pilots, Royal Blood, Arctic Monkeys and Killers. The difference is that U2 has a special sound and feeling in every song, can't really describe it. They also always try to top their previous album/tour, which is amazing. And I think no other band can do tours like: ZOO TV, Popmart and 360.

What are your hobbies and interests away from U2, musical or otherwise?
My biggest hobby outside U2 is playing the guitar and video editing. I also like to play video games and to play soccer with my friends.

Thanks for this interview DutchU2Fan!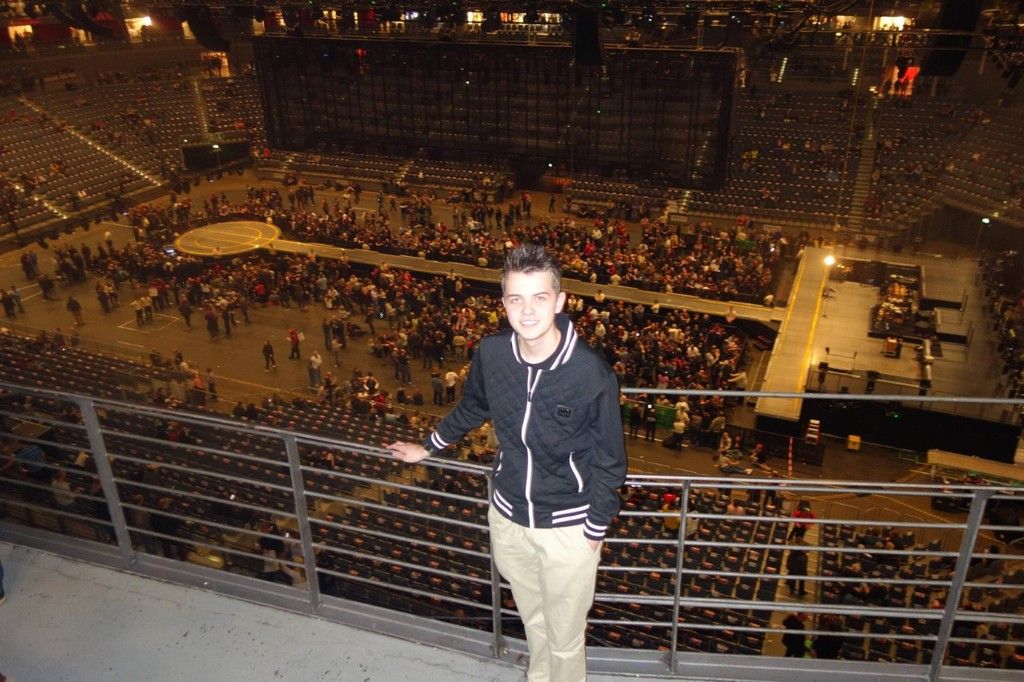 Note: Our crew members choose the fan of the month, you can't sign up for it.