Every month we have a U2 show in the spotlights, the show of this month took place on 2009-07-27 - Dublin. You can download this show, read reviews or write your own review on the show page
here. In this thread you can discuss this show!

"Must have bootleg. Great atmosphere, recording and performance. Possibly the best of this tours Irish shows. Get it "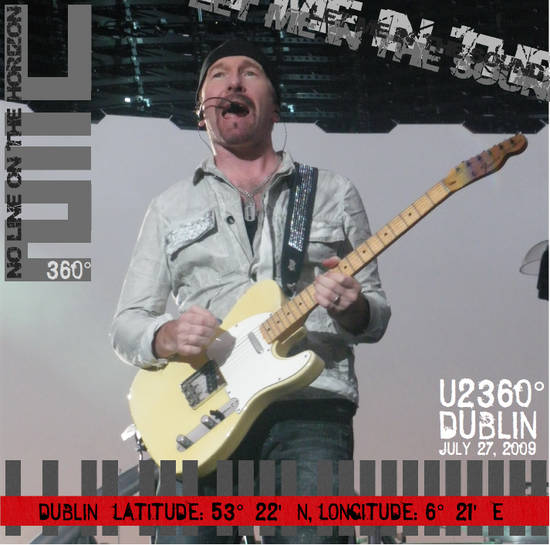 2009-07-27 - Dublin, Ireland - Croke Park
Breathe
No Line On The Horizon
Get On Your Boots
Magnificent
Beautiful Day
New Year's Day
I Still Haven't Found What I'm Looking For / Movin' On Up (snippet)
Stay (Faraway, So Close!)
Unknown Caller
The Unforgettable Fire
City Of Blinding Lights
Vertigo
I'll Go Crazy If I Don't Go Crazy Tonight / Relax (snippet) / Two Tribes (snippet)
Sunday Bloody Sunday / Rock The Casbah (snippet)
Pride (In The Name Of Love)
MLK
Walk On / You'll Never Walk Alone (snippet)
Where The Streets Have No Name / All You Need Is Love (snippet) / We Are Family (snippet)
One
40 (snippet) / Bad / Fool To Cry (snippet)

encore(s):
Ultra Violet (Light My Way)
With Or Without You / Shine Like Stars (snippet)
Moment of Surrender

Comments:
This month U2 will tour across stadiums in Europe for the first time since the 360 tour. 8 years later, U2 returns to Croke Park. Dublin residences are always special. We celebrate the third show at Croke Park during the 360 tour and one of the best sounding bootlegs of the tour thanks to taper Alysha. We had a tour debut of New Year's Day at the time when the band was still performing several NLOTH songs. Plus, a crowd from all over the world as Bono acknowledges it during the concert. This is a must have show from the last decade.

Show page:
2009-07-27 - Dublin, Ireland - Croke Park