Every month we put a U2 fan in the spotlight. The fan of the month for November 2016 is user Release3. Read along for the interview we had with this U2 fan.

"My undisputed favorite U2 song is Bad. Whether I'm listening, playing, or singing the song, it just gives me that indescribable feeling only really great songs can give you."

Tell us something about yourself, who are you and what do you do for a living?
Well, I'm from Chicago. I work as a manager for a paint company in the city. I've been doing that since I graduated college a couple years ago. I've also been recently engaged. So yeah, Adulthood is hitting me right in the face at the moment lol.

How did you become a fan of U2? Tell us how it happened.
Inheritance! My entire family (my parents being the biggest) have been fans since the 80's. They've been fans since the War/Unforgettable Fire era. A couple of my aunts and uncles have been to every tour since The Joshua Tree, and my parents have been to every tour since Zoo TV. My dad is the most die hard, though. He's obsessed lol. He's been to around 20 shows total. One of the highlights for my dad was definitely Vertigo's closer in Honolulu. There a lot of U2 memories with my family for sure. So yeah, I can't really say I can remember when I became a U2 fan, I just always was lol. My mom tells me I always used to dance and sing to Mysterious Ways when I was like 2, and asking her to play "She Moves" lol. But I remember being super young and just listening to Zooropa in the car with my dad on repeat, and getting Pop and listening the day it came out, again, on repeat lol. My parents, sister, and I would always listen to the new albums for the first time together. We had this big stereo in the front room, so I remember my Dad getting home from work the day Pop, All That You Can't Leave Behind, How To Dismantle An Atomic Bomb, and No Line on the Horizon came out. Songs of Innocence was the first time I listened to an album without them, but I was away at school and I was not about to drive 3 hours or wait days to listen! Haha. So a couple generations of die hard fans, my immediate family in particular, that love U2. Tons of fun stories with them.

Tell us about your U2 live experiences, how did you live each tour and any special anecdotes you want to share.
Me personally, I've been to 7 shows total. My first show was Elevation Chicago with my parents and one of my aunts. I was so young so I don't remember too much of the show, but I remember the Wake Up Dead Man snippet because my aunt couldn't remember the name. At the time of the Vertigo Tour I actually lived in Arizona for a couple years so I went to a show in Phoenix with my mom. I remember during Pride, Bono was talking about how Arizona was the only state that didn't want to honor Martin Luther King by giving him a national holiday back in the day lol It wasn't malicious, he was just like "Hey you didn't wanna do this, and that was messed up, but you changed your mind so you're good guys now." I went to the first show in Chicago in 2009, and the only show in 2011during 360. 2009 was really great because it was the first time I ever heard Bad, which is my favorite song, but the show in 2011 is easily in my top 3 favorite concerts by them.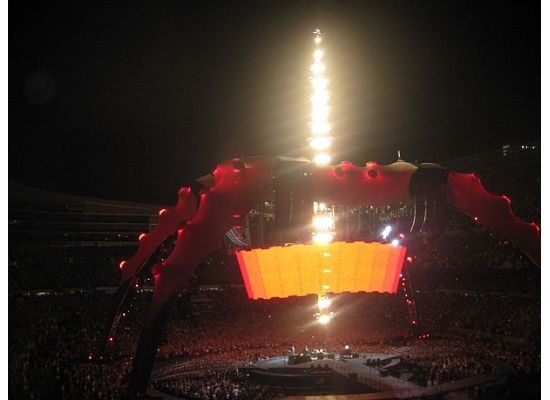 I went to 3 out of the 5 shows in Chicago during Innocence and Experience. I went to opening night, got GA tickets for the first time, so my sister and I stayed in line for like 12 hours… I got front row! My sister talked to a lot of cool people that day. Night 2 was really great, I won tickets through a college book rental place lol I took my fiance, and we were 2nd row. It was pretty special, because it was her first U2 show! Also, went to the last night. I scored last minute tickets so my mom, cousin, and I went. We were last row in the building, so I literally saw the show first row and last row during their stay in Chicago lol. It was a great string of shows. I think my favorite tour so far. I just remember the great setlists. I heard Gloria, Volcano, Ordinary Love, California, Bad, 40. Of course, the show all my aunts, uncles, and cousins went to they played Crystal Ballroom… the bastards. My family has great stories, too. Feel free to ask anything about their experiences.

We understand U2 played a big role when you proposed to your girlfriend. Can you tell us a bit more about that?
Yes! I took her where we had our first date, and played All I Want Is You on guitar, then got on my knee and asked her the big question. I wish I could give a good story, but I literally blacked out during the whole thing haha. It's like when you finish giving a speech in class and are just like "what the heck just happened?" haha. She was crying, smiled, and said yes so I guess it couldn't have been too bad! All I Want Is You is going to be our first dance song at our wedding, too.

Adam recently said that SOE is not ready and may appear in March at the earliest. How did you take the news? What are your expectations for the new album?
It's disappointing. The reason I think it's disappointing is because there were SO many signs pointing to a release. Maybe not in 6 days, but definitely not in 6 months! I feel like if there wasn't that Best Thing leak, and if they didn't play those 2 shows (while rehearsing new stuff), the announcement would've probably been accepted more positively by the fans. I mean 6 months isn't too far away, but I think we all just expected it to come out sooner.

What do you think about U2's recent incursion into American politics with Desire and Bullet The Blue Sky in their recent shows? Is there something they could've made different?
I love it. I personally loathe Donald Trump. I think it's important that established artists with a voice, whether it's music, art, acting, etc. are coming out against such a disgusting person. I know people who support Trump, and listening to the way they talk about people, the things they do and say are just horrible. My uncle in particular. A U2 fan who is literally hating them now just because they made a statement. I don't want to rant about negatives here, we can discuss The Donald in a politics thread haha. I think U2 is more powerful when they improvise during political rants (Sunday Bloody Sunday in Rattle and Hum). They still put on an amazing performance, but because it was rehearsed, it wasn't as powerful as they could have been. Really good, but not great.

Which U2 song do you feel the most "attached" to, or means the most for you?
Tough question. I love so many songs for different reasons, and my favorite songs, albums, and eras always change. However, my undisputed favorite U2 song is Bad. Whether I'm listening, playing, or singing the song, it just gives me that indescribable feeling only really great songs can give you.

What would you like to ask U2 if you got the chance to?
What is your legacy? I would love for them to tell us how they honestly think of themselves. They're a humble bunch, but I would love to hear how accomplished they know they are. I would love to hear their honest thoughts on Pop, their ups and downs, and what they think of other artists (whether it's good or bad.)

How different is U2 compared to other artists that you like?
Musically. Every U2 album is so different, whether it's mood, lyrics, or actual sound. The songs have the ability to connect emotionally, too. You feel the songs when you listen and that feeling is consistent with every album. I have songs that I love by other artists that give me the same feelings, but U2 is just on another pedestal. I mean, I was born into the fandom. The closest band that has come to do that is Cage The Elephant. If U2 wasn't around, they would easily be my favorite band.

What are your hobbies and interests away from U2, musical or otherwise?
I love playing guitar, singing, and recording music. My friend from Arizona, who plays drums, and I record have been recording stuff for fun the last year or so. He'll give me a drum track and I'll build around that, or if I record something, I'll send it to him so he can lay down the drums. Recording is my favorite thing to do so if anyone plays, record it and put it on soundcloud, and let's make some music!! Here's demos, stuff we're in the middle of, unfinished stuff, and other bits and pieces we've done https://soundcloud.com/martydemo.



Thanks for this interview Release3!

Note: Our crew members choose the fan of the month, you can't sign up for it.