Another edition of #U2liveshow, hosted by myself/Remy. We will broadcast the audio recording of our show of the month, because it's an awesome show with many highlights and rarities.

About #U2liveshow
As part of #U2liveshow we will host many liveshows (audio, but also video if possible) with lots of interesting stuff around it. We will plan them on different dates and times to accommodate as many fans as possible. Every liveshow will also have a rotating host, which will be crew members and fans such as yourself. If you want to host one, let us know!

About this show
See below, it's our show of the month and for a good reason!

Broadcast details
Date and time: Saturday 26 March, 20:00 GMT
Where: In this topic and on our Mixlr

We hope to see you there, add it to your calendar


===

Every month we have a show in the spotlights, the show of this month took place on 2010-09-15 in Munich, Germany. You can download this show, read reviews or write your own review on the shows page here. In this thread you can discuss this show!

"The entire show is one big highlight. Download this gig right away.You will love it."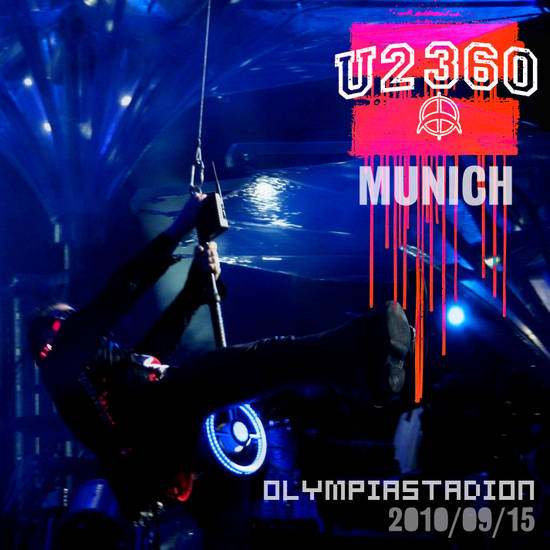 2010-09-15 - Munich, Germany - Olympiastadion

Return Of The Stingray Guitar
Beautiful Day
I Will Follow
Get On Your Boots
Magnificent
Mysterious Ways / My Sweet Lord (snippet)
Elevation
Until The End Of The World / Anthem (snippet)
I Still Haven't Found What I'm Looking For
North Star
Mercy
In A Little While
Miss Sarajevo
City Of Blinding Lights
Vertigo
Funky Town (snippet) / I'll Go Crazy If I Don't Go Crazy Tonight / Discothèque (snippet) / Two Tribes (snippet) / Relax (snippet)
Sunday Bloody Sunday
Mothers Of The Disappeared
Walk On / You'll Never Walk Alone (snippet)

encore(s):
One
Amazing Grace (snippet) / Where The Streets Have No Name / All You Need Is Love (snippet) / Purple Rain (snippet)
Ultra Violet (Light My Way)
With Or Without You
Moment of Surrender / Singin' In The Rain (snippet)

Comments on this show
An amazing show from the 360 tour, with lots of rarities and great moments. North Star, Mercy, Mothers Of The Disappeared, the Discotheque riff in Crazy Tonight and so much more. And this all captured in amazing quality, you can almost feel the energy coming through your speakers.

http://u2start.com/shows/1564/