Every month we put a U2 fan in the spotlight. The fan of the month for December 2017 is user guykirk9. Read along for the interview we had with this U2 fan.

"I couldn't believe what was happening in front of me, during the most electric part of the show Bono has come over to me and stares right at me"

Tell us something about yourself, who are you and what do you do for a living?
Well my name is Guy and I am 20 years old! Originally I am from New Jersey but my family moved to Indiana around 7th grade to a suburb of Chicago. I currently reside in Indianapolis where I study finance at César's former school IUPUI and work whenever I have free time (there is not much of it) at the Indianapolis Zoo.

How did you become a fan of U2, tell us how it happened?
Me becoming a U2 fan is an old story because they have been involved with my life since I was just a wee lad. My mother and father or both fans of U2 but my dad is much more of a fan. He has been listening to the band since Boy and he went to a ton of concerts throughout years including Conspiracy of Hope in NJ, Joshua Tree in DC, Zoo TV at Yankee Stadium, and Elevation at Boston to name a few.

Getting back to topic my first U2 memory is super distinct which is awesome. My father and I were driving somewhere and we heard Vertigo on the radio for the first time (I believe it was the day the single released) and my first thought was that I alleged that the song was a copy of a previous song I heard before. I forgot what I claimed it sounded like but I find it hilarious that 7-year-old me tried to tell my father it was a rip-off.

My parents later bought HTDAAB and vividly remember driving to Quebec, Canada and it being on repeat so I have always had a strong picture in my head from COBL in particular. Then I grew attached to Beautiful Day later in elementary school and that is really where I started to like the band. From there I started to explore the band a lot when I moved to Indiana. My family actually got to see the 360 show in Chicago which I remember just totally being in love the whole time. Then freshman year of college it turned from casual to an actual fan where I started to listen to each album individually and start to actually sit down to listen to their music.




(Us at 360. Me looking very dude-broish, my sister, father, and little brother who is getting into guitar now, he makes me look like Bono playing guitar)

What made you a hardcore U2 fan instead of other "more hip" bands closer to your generation?
Well I have always been a fan of classic/alternative rock my whole life. Even when kids were listening to pop and hip hop I stuck to my guns and listened to my music. Again I would say my parents totally influenced my musical taste but when it came to becoming a hardcore fan it was a road I went down without them. I really loved Bono and the character he is when he's on stage. Watching him during Rattle & Hum and Zoo TV with all the flair is just so cool. U2 also has reinvented themselves so many times which I find fascinating. To go from Boy to UF, JT to AB, Pop to ATYCLB is mind-blowing. The music also just speaks to me. When I hear Streets or Bad it just takes me to such a cool place. What made me a die-hard fan was learning the tale of U2, because it is as interesting and fun as any other band ever.

Tell us about your U2 live experiences. You even got a very close encounter with Bono at the JT Indy show, how was it?
So going into last year I knew U2 was going to be on tour and I told myself I was going to go to a show. My father told me the true way to experience the band is going GA. So I signed up for the fan club to gain access to the presale and I bought Chicago tickets for my buddy's and I. Then Louisville opened up and I decided to purchase those because it was not that far. Chicago was a blast, we showed up around 4 p.m. and still ended up 5 rows back from the B-Stage. It was the best experience of my life (until the next one) and then my family went to Las Vegas to explore the National Parks out west. I got to see some beautiful sites, including many Joshua trees which inspired to purchase Indianapolis tickets as well.

The Louisville show was right when I got back and I woke up bright and early to drive south to get a number in line. I ended up in the 100's but got a rail spot miraculously. This show was even better, being that close to the band was the new best moment of my life (until the next one) when Bono walked right over to me during Elevation.

Then came the Indy show which I was all in for. I called off work for four days and got school work done a week prior and luckily I was able to get number 10 in line. You should have seen the smile on my face knowing I was 10 in line. I walked in to Lucas Oil and picked my spot right smack in the middle of the tree. It was a perfect spot and my excitement was beyond words. Larry walks out and starts pounding the drums and my jumping began for four straight songs. It was incredible start to the show, Adam was playing right in front of me and Edge winked at me once, but nothing crazy from B man. They retreated to the main stage where they rocked the JT especially RHMT where I may or may not have teared up. Then came Exit. My favorite song to hear live of the tour. About half-way through where the "hands of love" is going on and Bono starts to make his way to the catwalk I already jump ahead and start holding my hand out and singing "hold out your hand". Then he starts with the "hold out your hand" and my hand is as far as it can reach. I lock eyes with him and he starts coming right for me and ends up standing right over me with his hand almost at mine. I couldn't believe what was happening in front of me, during the most electric part of the show Bono has come over to me and stares right at me…. but I can't reach. I am a taller boy but my calves are dead from the previous songs. This all going through my head in seconds and with one more leap I jump higher than before and meet his hand. I lost my shit. I touched Bono! I was elated and full of just pure joy, everyone around me was giving me high fives and I just had a totally cool moment with my idol. Then during Elevation and Vertigo he was bending over in my face and singing right to me it was mind-blowing. I think the energy I had he loved because I was jumping and singing with every note, it truly was a magical show.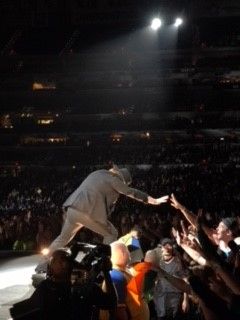 Everyone is talking about SOE right now. What do you think of the album? What are your highlights?
I am in love with SOE. I am really impressed that the band through it all can still put out a quality record such as this, solidifying their place in music history. I have been listening front to back constantly. I was home for Thanksgiving and got to listen to a bit of it with my father and we adored Summer of Love from the first listen. SoL would start the highlights followed by Red Flag Day, Little Things, Lights of Home, Love is Bigger (absolutely love the Killiney Bay part), and 13. Like many of us the singles haven't sat well with me, but that doesn't mean I don't like them but they just haven't been as good as the rest of the album.

Which songs from this new album you want to hear live? Which old songs can be revived for the next tour?
For the tour my opinions change a bit for songs I want to hear. The Blackout leads them all, imagining what they will do with that song has me itching for the tour. I also feel like American Soul and Red Flag Day will be a lot of fun. Part of me is worried about Summer of Love just because I do not know how exactly it will translate to a live setting and if it will be attempted. Of course I hope we get Little Things because that may be the most proper song of the album.

For bringing back some old stuff I agree with the majority that Pop would be great to hear. Hearing Please segue into Streets live is a dream of mine so I would love that and I think Please's message can go with the shows anti-Trump sentiment quite well. WGRYWH would be so cool (even if it's a pipe dream) or Lemon (another pipe dream) but both of those have such a little chance to be revived. My pick for a revival would be Zoo Station or The Fly maybe once every couple shows. If I got any one of those you can bet I would be a happy boy.

What do you think of this new lottery system for pre-sales of tickets in North America? Did you have a smooth experience? Do you think the band should be more involved on this?
The lottery system was an absolute crap shoot. I think it was such a terrible way to take a step backwards into getting the "real fans" tickets and not scalpers. Seeing everyone's struggles they had in not getting tickets and for GA's to not be available at all during the presale was annoying to say it nicely. For me I wanted Chicago but of course they were sold out right away but I luckily took my chances and got a St. Louis GA for the second show of the tour which will be a treat in its own right. Somehow during the general sale my dad got 2 GA's when literally no one else did it was the craziest thing (he said he "figured out TM's algorithm"). I was maybe the luckiest fan out of the bunches because even though I didn't score the first day I still have two shows that I will get to go to. I think it is difficult to have the band involved in the sale at this point in their careers. I do believe this should be totally overhauled but the band should not have any part in this.

If you could share a pint with one member of U2, which one would be and why?
If you haven't guessed by now it would be Bono. I would be star struck so it would be hard to talk but he is my idol in many aspects of his life. I try to sing like him (try is the key word) but more importantly humanitarian Bono has done so many positive things in the world. To try to live with more love in one's heart is an important thing. I feel like he would be a great guy to talk to.

How different is U2 compared to other artists that you like?
U2 would be in that same boat of bands. Pearl Jam, Led Zeppelin, the Stones, Beatles, the Who, Oasis, and the Black Keys to name a few off the top of my head. I do enjoy all types of music except country. I could go on and on but I will keep that short and sweet.

What are your hobbies and interests away from U2, musical or otherwise?
I am a huge sports fan to start. The Dallas Cowboys are by far number 1 but also the NY Mets and Knicks, and for soccer I have been a Man City fan for a few years now. I also love movies and TV shows so by all means if you want a review for one come to me because I should have seen it if it's any good
. I play some video games in my free time as well. I obviously love concerts having seen the RHCP, Paul McCartney, Roger Waters, the Who, Stones, Green Day, Eddie Vedder, GnR, Bob Dylan, Kanye West, Jay-Z, Coldplay, and Kings of Leon in concert (I am forgetting a few). I try to play guitar but all I can play are U2 songs or should I say the only I love to learn.

That's a little insight into my world! I want to give a big thanks to the U2start crew for choosing me this month and creating a website that I truly love to spend my time to talk to my fellow U2 fans. I am so happy I stumbled upon this site a year back.

Thanks for reading!

-Guy


Thanks for this interview guykirk9!

Note: Our crew members choose the fan of the month, you can't sign up for it.