Every month we put an U2 fan in the spotlights, the fan of the month June 2011 is user Macphistfly.


Tell us something about yourself, who are you and what do you do for a living?
My name is Cal Hunter I'm an actor, a voiceover artist, a poet, a meditation advocate, an armchair anthropologist, and a musician.

I come from the North Coast of Ireland and my hobbies include being a flamboyant devil picking philosophical arguments, and stupid internet humor.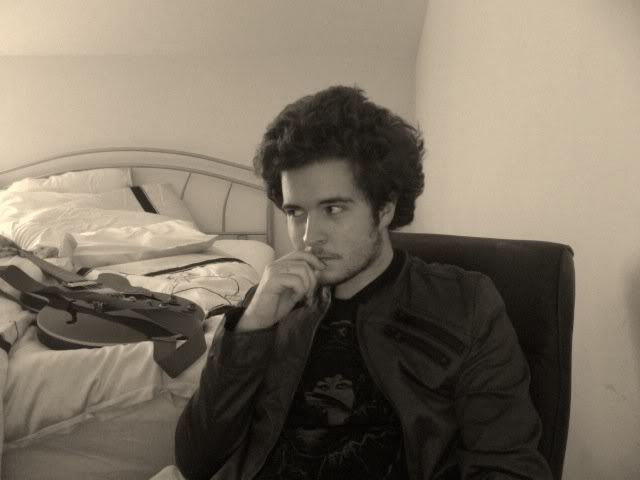 How did you become a fan of U2, tell us how it happened?
I remember it was a Sunday, in 2000 the release of Beautiful Day's video my response was immediate. "They sound crap."

Everything that I start off hating - I usually end up loving. Except for Spiders. There's nothing good about spiders.

Also, my favorite U2 member is Adam Clayton's Dong. That guy's been responsible for some great hits over the years.

If there would be only one U2 song you could hear the rest of your life, which one would it be?
This is incredibly easy. 'Where The Streets Have No Name'

It is I believe a song of such might and magnitude that it holds weight against the classic composures of Brahms and Beethoven. . I will never forget the feeling of closing the blinds in my room and blasting the Boston DVD version at full volume.
It was the proverbial 'sword and shield' to me through my teenager years. The 'Beaten and Blown by the wind, Blow by the wind' refrain gave me strength I would never have found otherwise and every time I hear it I am transported by it, but in its glorious aftermath I am reminded of the great debt we owe the artists who have helped shape and defend us.
It is the definition of 'Great'..

What is your favorite U2 videoclip, and why?
With or Without you. Easy.
When I really started to fall in love with U2 I fell hard, and I recorded it from a now non-existent Music channel called 'The Vault' onto a VCR back in 2003. I was unabashedly enraptured by the song, the sheer melody - but it was more than that. Bono's glaring at the camera with only his lyrics as dialogue, the Edge pensive and focused, Adam and Larry immersed, it felt like something one being driven forward by them. Something ancient and eternal, that was waiting for aeons to be discovered. It was like a new form of cinema, and I wore that tape out with repeating it. As I look back now, I understand why.
The misty haze, and the shadows of man and woman, it perfectly defined the love all teenagers aspire to, but are so clumsy in attaining. Not ephemeral and fleeting, but Ethereal and timeless.

We know you've written and released your own EP some months ago. Tell us, when did you become interested on music-making?
It happened, like all the great things in my life, out of the blue.
I was studying in Los Angeles California, and as it is a musical academy also each of the rooms had a piano in it. Now, I didn't know the location of a single note (and to be honest I for the most part still don't.) but I was getting melody's in my head every day and night, I was singing and humming them to myself and no matter what my logical head brought up 'You're here for acting, so shut up and get back to what you're good at!' was ignored. Compulsively. The songs were forming inside of me, whether I liked it or not. So I quit college came home and got to work on figuring myself out, and making music.

I had become excessively worried around the age of about 13, about the loss of my own Innocence, in a word to me it meant the feeling of aliveness and submersion in a moment that adults seemed to have forgotten all about, but children embody so effortlessly. It's that combination of both angst and joy that I feel compelled to express through music.

There is a great deal more coming from iOi and I am glad it is you, my friends at U2Start, whom I have shared many great conversations and words with (even some harsh one's with the odd excitable Spaniard - 'LikeACock') but overall I knew that you guys understand concept and aesthetic as U2 execute so easily with their tours, and albums. So it was a natural choice.

Which bands or artists have been your major influences?
U2 is the touchstone, from which everything else followed. It was in Cyprus on a family holiday in 2003 that I fully immersed myself in all things musical. It was a time I look back at and cannot help but feel a warm glow comparable to childhood Christmases.
It was the Best of 1990-2000 I started off with, and then the rest followed along like a flowing river.
Michelle Branch's two albums were very played, at the same time and I soon came to discover music at the same time I adventured across this new Mediterranean land.

Naturally for a U2 fan, REM soon followed and took up a strong second place.

One of the great, lesser spoken of attributes of U2, is a result of their relationship with Brian Eno. Ambient music.
I got from both of them (The Passengers album especially) a sense of tone and texture, particularly from Edge and Brian Eno, that has never left me.

Also, I beat even Bono to the 'Chris Martin is a Wanker' comment way back in 2004 when he said he wanted to 'knock U2 off of the top spot as the biggest band in the world', I hated him for that. I hated him so much I wrote 5 bad reviews of X & Y on Amazon.com saying that he should 'spend less time on music and more time on creating a new child, then naming it 'Banana'.
Of course, Viva La Vida won me over and I adore Coldplay now, but man…that hatred was fun while it lasted.

I don't want to overindulge in my answers so I'll just state that other big influences are : Peter Gabriel Depeche Mode, Angels and Airwaves. WB Yeats, Oscar Wilde, Michael Crichton, John Williams, and Steven Spielberg.

In a house fire, which one of your U2 items would you save?
There actually was an incident of similar ilk several years ago. All of my stuff was gone, including all of my U2 collection. At the time I was only sixteen and particularly materialistic and as a result, devastated.
Since then I've come to recognize that the greatest achievement of music and film is the feeling of connection it gives us to something bigger, and that feeling transcends mere form and goes into the realm of something much purer. It's a very Zen thing, and you don't need more stuff than anyone to enjoy something great to the fullest.

Does anyone in your family or one of your friends like U2? If so, did they introduce you to U2, or did you "convert" them?
Almost everyone I know locally, seems to despise them.
As I despise everyone I know locally - this is a good thing.

You've been active on our politics threads since a lot of time ago, both regarding US and Ireland topics. What's your opinion on North Ireland's and USA's current governments?
Let it be know that I love Ireland and am glad to be brought up in the bloodline of such a culture, but there are serious issues in need of comprehension and resolve.
Northern Ireland's problems run deeper than mere politics, there is an enforced code of conduct at work in the more rural parts of the country that is so oppressive on an individual's (particularly to a non-adherent to society's) sense of self.
The main problem is that the aforementioned sense of self is taught to be derived from one's place in a hierarchy, not by one's own desires and beliefs, and I have a deep, indomitable problem with that.

This problem is something that can only be affected by a change in the collective mind, the zeitgeist of the people. Politics can do little to nothing.

As far as America, I am a supporter of Congressman Ron Paul, and have been since the beginning of his 2008 campaign in 2007. For those of you who don't know him, even if you don't agree with my personal views I cannot urge you enough to check him out.
Anyone who has been practicing what they preach in politics for 30 years deserves respect.

What would you like to ask U2 if you got the chance to?
I'm not the 'queue for hours to meet them' type, it's cool that some people are like that - but its not for me.
I have had the pleasure of meeting Larry and let me just say without reserve - he is an absolute gentleman and has a good aura about him. In Hollywood, he came out to greet us free from security, and I was humbled by his warmth and kindness towards myself and my friends.

What are your hobbies and interests away from U2, musical or otherwise?
Writing, Meditation, Hiking, and Murder!


More on Macphistfly's music: http://www.reverbnation.com/inourinnocence


Thanks for this interview Macphistfly!

Note: Our crew members randomly pick fans of the month, you can't sign up for it.