Every month we have a show in the spotlights, the show of this month took place on 1990-01-10 in Rotterdam, Netherlands. You can download this show, read reviews or write your own review on the shows page here. In this thread you can discuss this show!

U2start liveshow on Sunday 18 January 2015
To celebrate this show of the month we are broadcasting this show live on Sunday the 18th of January. Make sure to tune in, you can do so from this page. The show will be broadcasted on 19:00 PM UTC/GMT.

"This concert had everything: great setlist, BB King, the band having fun, a guy from the audience playing on stage. You can hear it in the performance on this bootleg: they're in great form and the audience are loving it. "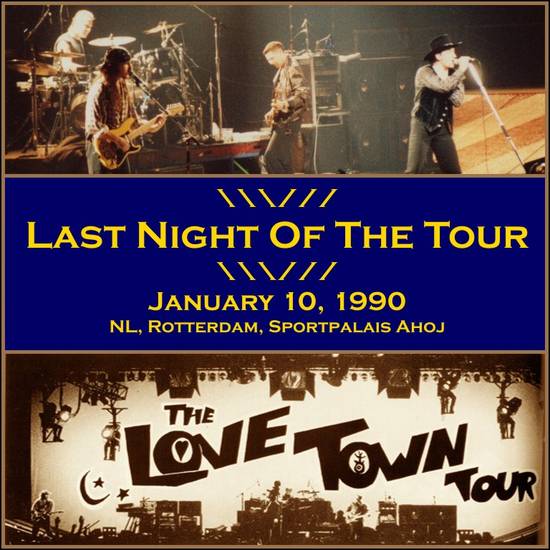 1990-01-10 - Rotterdam, Netherlands - Sportpaleis Ahoy

Bullet The Blue Sky
Desire / 1969 (snippet) / So You Want To Be A Rock 'n' Roll Star (snippet)
All Along The Watchtower / In God's Country (snippet)
Slow Dancing
All I Want Is You / Sexual Healing (snippet)
On The Road (snippet) / Where The Streets Have No Name
I Will Follow
I Still Haven't Found What I'm Looking For / Exodus (snippet)
People Get Ready
Bad / Norwegian Wood (snippet)
Van Diemen's Land
New Year's Day
Pride (In The Name Of Love)

encore(s):
Angel Of Harlem
When Love Comes To Town / In The Midnight Hour (snippet)
Love Rescue Me
11 O'Clock Tick Tock
Out Of Control
40

Comments on this show
If you look back in U2's history for historical shows in January this one might be the one show that not only stands out in January, but also in general. The last concert of the Lovetown tour was an amazing show with too many highlights to note down. As one of our reviewers, who attended the show, wrote: "This show had everything".

We encourage you to listen to this show this month and write your own review, the more, the better. Enjoy!

http://www.u2start.com/shows/907/